Milton Keynes Chinese School & Community Centre



At Milton Keynes Chinese School Community Centre, we make each school day an enjoyable and rewarding learning opportunity. We are a medium size Chinese School in UK located 5 minutes car drive from Milton Keynes City Centre. We have been providing education and community activities to MK and surrounding areas for over 30 years. We currently have around 250 pupils and the numbers will continue to rise, albeit at a moderate rate.
Our speciality is Chinese Language teaching, with classes spanning from Year 1 to Adult Classes. Students will join our school from the age of 5. Our school team strives to ensure all the children have a fun and knowledge enriching time during their lessons, leading to achieving excellent results in all major external exams. We provide a safe, healthy and nurturing environment for all our children, their families and our community. Our staffs who are in contact with children are all DBS checked to ensure full government compliances.
Our Community Centre provides various activities to members. Past and present activities include Wing Chun Classes, Music and Dances Classes, Museum Visits and so on. Our yearly Chinese New Year Celebration is probably one of the best in the surrounding area.
In order to find out more, please Contact Us.
Welcome to our new school year starting on the 13th September 2020. Hope you all had an enjoyable time even though it was an unusual summer holiday.
As all of you are aware, there are many restrictions on group gatherings, including holding classes in enclosed spaces.
Our management team had a discussion with St Paul's, our landlord, on the requirements that we must satisfy, if we are to return to the premises in September. These requirements were beyond our expertise and abilities to satisfy. As a conclusion, we have decided to start the new school year with online lessons for the first term, and will reassess the situation again in later days.
The school lessons time for all classes will start at 9:30am, with the exception of class P5 and P11, these two classes will start at 11:45am. Please remember, in order to keep the class as interactive as possible, all students must keep their camera active throughout the lesson.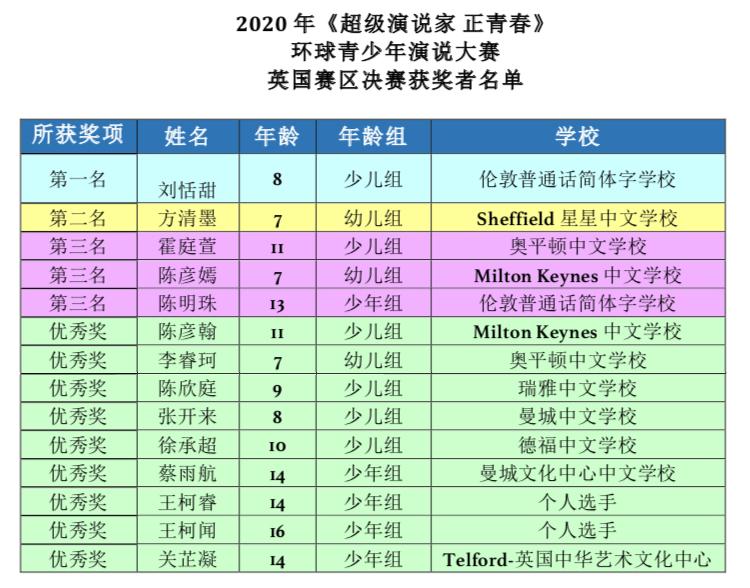 恭喜所有获奖和参与的选手们,不懈的努力和坚持!一遍遍重复录制视频,每一次都要以最佳状态出镜,有的小朋友年龄很小,真是很不容易。[强][强][强]
第一名至第三名共五位选手被邀参加原计划九月份在希腊举行的全球总决赛。目前全球疫情不稳定,希腊总决赛将会延期举行,孩子们可以安心准备开学,具体的方案近期正在紧张商议,正式出来以后会书面通知到各位选手及学校负责人。